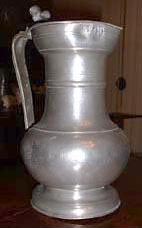 Welcome
You are on the Internet site of people whose passion is old pewter.
Our main goal is to identify any object made of pewter.
To this end, we have created and regularly enrich a databank allowing us to find the origin and the function of old objects in your possession.
In addition, our site also gives you the possibility to acquire certain objects or books in this field.
To unearth the history of objects and of those who have used them, such is our goal. Research, undertaken in many countries for years, enables us to find the origin, the artisan and the function of these objects. Sometimes, important phases of the pewterers' life and their family come to light, as well as the environment in which they worked.
You who like these objects, which accompanied the preceding generations, do not hesitate to contact us in order to enhance your knowledge of their history.
ESTAIN